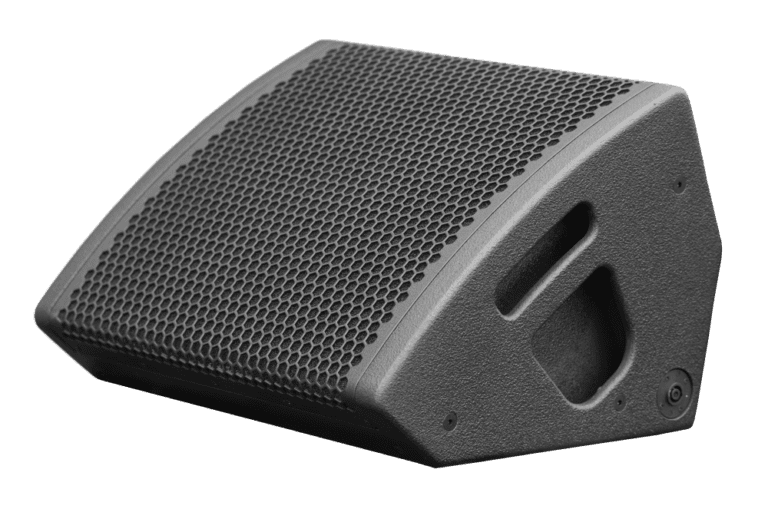 M15X
Compact, highly versatile enclosure
Incredible fidelity, Impressive output for size
70 X 50 degree confocal elliptic rotatable pattern
2-way Biamplified enclosure
Curved laminar vents for maximum LF extension
LF extension with M118 or M218
OVERVIEW
The M15X is a 2-way high performance coaxial stage monitor designed to deliver output levels comparable to the highest output conventional premium 2-way systems, with superior pattern control, directional consistency, and a precise transient response that only a coaxial loudspeaker can provide. This advanced monitor employs an integrated 15" LF and 1.5" exit horn loaded HF coaxial driver design that utilizes a central neodymium magnet.
The precise 50 X 70 (h x v) constant directivity horn delivers and accurate, consistent coverage area, whether on stage, or when deployed for mains PA applications. The M15X horn features one of the proprietary RMS-Acoustics confocal elliptic waveguide shape, made with cutting edge additive manufacturing technology.
When used upright, or on a pole for mains PA applications, the horn will be in the 70 wide X 50 vertical, highly applicable to a wide variety of sound reinforcement applications.
Optimized nonlinear venting improves the low frequency impedance compared to conventional enclosures, while maintaining better mechanical cone control when low frequency extension is required. The result is tight, punchy bass that also goes deep.
The M15X enclosure is crafted from premium multi-ply birch with a finely textured polyurethane finish that is impact and UV resistant. A powder-coated, punched and laser cut steel grille protects the cabinet internal from the elements. Full weather protection and custom color finishes are also available. The weatherized option provides and IP54 rating. Rubber feet recessed in the bottom panel protect the cabinet from scratching and prevent movement on stage.
The optimum processed amplifier solution for the RMS-Acoustics M15X and Maximum performance can be achieved with the RMS-14K and RMS-10K power platforms. Amplifiers from Linea Research may also be used.
SPECIFICATIONS
Frequency Range (-10dB):
45Hz – 20kHz, Assumed 100Hz low pass filter 0dB point taken at 60Hz, Unprocessed
Frequency Response (±3dB):
60Hz – 18kHz, Assumed 100Hz low pass filter 0dB taken at 60Hz, Unprocessed
Electrical Input Connectivity:
Dual Neutrik NL4MP connectors, 2 additional NL4MPR Connectors, one on each side
Transducer Power Rating (AES)
LF     900W, 1600W, 3200W ( Continuous, Program, Peak)
HF    220W, 400W, 800W (Continuous, Program, Peak)
Long Term Power Rating (IEC)
LF    1200W (4500W Peak), 2 hrs, 900W 100Hr
HF    130W (500W Peak), 2 hrs 90W 100Hr
Maximum SPL (1m)
129 dB Continuous, 135dB Peak
Sensitivity (dB SPL, 1W, 1m)
98dB
Nominal Impedance:
LF 8 Ohm
HF 8 Ohm
Low Frequency Driver
15in Neodymium cone loudspeaker with 4″ voice coil, shorting ring and high performance convective cooling technology
High Frequency Diaphragm
1.4″ exit Neodymium compression driver diaphragm with 4in voice coil
Enclosure Construction
15 and 18mm Birch Hardwood plywood 1.3mm layers
Suspension Attachment
Proprietary internal, captive rigging
12 3/8-16 threaded eye bolts
Finish
Black Polyurea/ Urethane with aliphatic UV inhibitor
Grill Details
Cold Rolled steel, Epoxy powder coat, Acoustically transparent black foam backing
Dimensions W X D X H:
24.4″ X 15.5″ X 11.7″, 620mm X 394mm X 297mm
Net Weight
70lbs, 31.8kg
Ordering Options
M15X, M15Xi (Installation), M15XX (Weatherized), M15XiX (Installation Weatherized)
Color Ordering Options
M15X-W (White),  M15X-C (Custom Color)
ACCESSORIES
| | |
| --- | --- |
| M15X-HU | Horizontal U Bracket for permanent installation |
| M15XAF | M15X Array frame, suspend and splay 2 M15X or M15Xi |
| POLE-CRANK-RING | Crank up pole 35mm + M20 Bottom, 35mm Top Ring Lock, 37in Min- 59in max (Must be ordered in pairs, Black) |
AMPLIFIERS 
The following amplifier frames can be used achieve performance from the M15X system
MOBILE
RMS-20K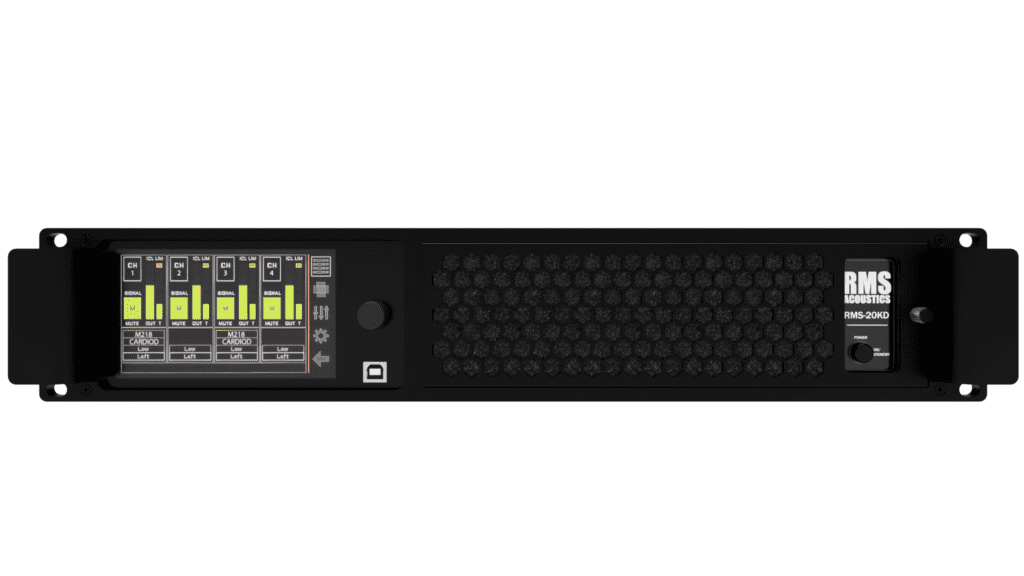 Mobile or Installation capable Amplifier
Maximum output power 4 X 5000 W into 4 Ohm
Color TFT Touchscreen Monitoring Display
All RMS Loudspeaker Presets
Incredibly powerful FIR and IIR DSP capability
High Impedance Load Capability 100/70/50/35 V Systems
Open platform for any loudspeaker processing for any brand
RMS-14K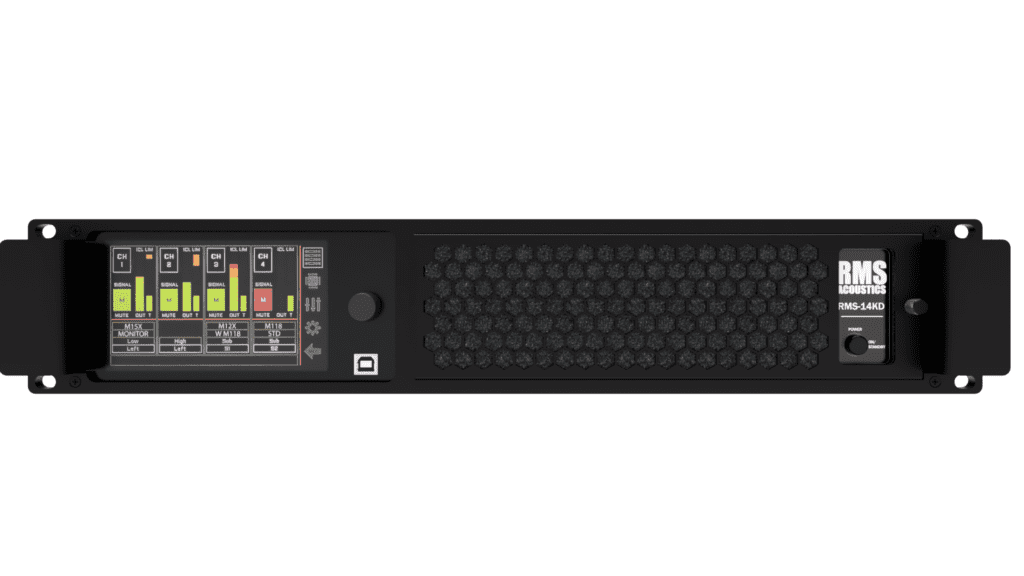 Mobile or Installation Capable Amplifer
Maximum output power 4 X 3500 W into 4 Ohm
Color TFT Touchscreen Monitoring Display
All RMS Loudspeaker Presets
Incredibly powerful FIR and IIR DSP capability
High Impedance Load Capability 100/70/50/35 V Systems
Open platform for any loudspeaker processing for any brand
RMS-10K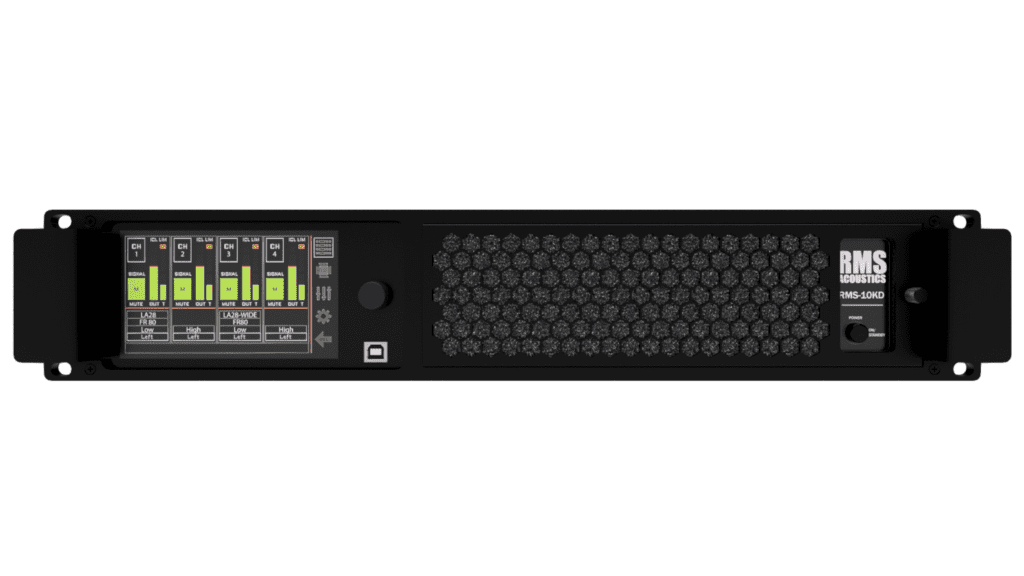 Mobile or Installation Capable Amplifier
Maximum output power 4 X 2500 W into 4 Ohm
Color TFT Touchscreen Monitoring Display
All RMS Loudspeaker Presets
Incredibly powerful FIR and IIR DSP capability
High Impedance Load Capability 100/70/50/35 V Systems
Open platform for any loudspeaker processing for any brand
RMS-410Ki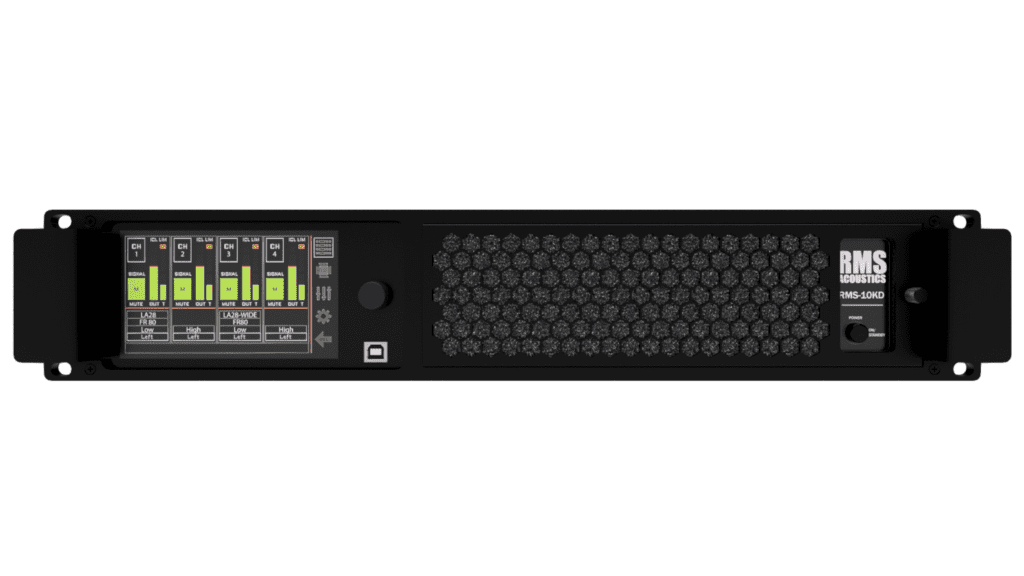 Installation Specific 4 Channel Amplifier
Maximum output power 4 X 2500 W into 4 Ohm
Color TFT Touchscreen Monitoring Display
All RMS Loudspeaker Presets
Incredibly powerful FIR and IIR DSP capability
Optional GPIO for Power and Mute control, Fault Monitoring
Signal, Loudspeaker, GPIO connections on Euroblocks
High Impedance Load Capability 100/70/50/35 V Systems
Open platform for any loudspeaker processing for any brand