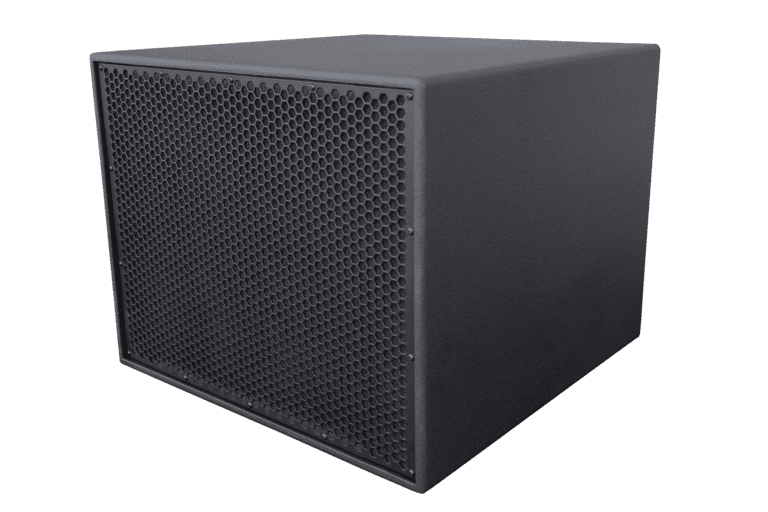 M118i
137dB Max SPL
Low profile, space optimized design
Laminar vents
Integrated locking feet
Designed with Cardioid Sub Arrays (CSA) in mind
Optional standard rigging kits for complex flown arrays
OVERVIEW
The M118i is a high efficiency, high impact sub-bass loudspeaker with exceptionally high power handling. It provides high impact, high sensitivity, low thermal compression and incredibly low distortion, even at the highest drive levels. These combined properties deliver the sonic qualities of precision and musicality.
The M118 features one long excursion, high power handling 18" cone loudspeaker mounted in a mechanically and acoustically optimized bass reflex cabinet with laminar venting. Port turbulence is virtually eliminated, and high drive level distortion is minimized via large, flared, symmetrical laminar venting. It operates from 35 Hz to 100 Hz when flown and from 32 Hz to 90 Hz when used as a general ground support subwoofer.
The M118 enclosure was designed with installation in mind. It features the option of up to 24 integrated fly points and optional array frames that allow for mounting to ceilings and the creation of traditional and cardioid flown arrays. The compact profile allows the M118i to fit easily under stages, up tight to ceilings, and between standard framing for flush mount installations.
The enclosure is constructed of premium birch hardwood plywood and is coated with a weather and wear resistant urethane hybrid finish. Components in the front of the enclosure are protected by a steel grill made from perforated steel that is coated with heat cured epoxy powder and lined with acoustically transparent foam. All optional rigging components are weather and corrosion protected with a heat cured epoxy powder coated finish.
The optimum processed loudspeaker solution for the RMS-ACOUSTICS SB subwoofer family are the RMS-ACOUSTICS series of processed amplifiers, also the Linea Research C and M series amplifiers, with proprietary presets provided by RMS-ACOUSTICS.
SPECIFICATIONS
Description
High power subwoofer, Single 18″
Transducers
1 High power, high excursion 18″ subwoofer
Frequency Response(-10dB):
30Hz
Frequency Response (±3dB):
35Hz – 120Hz
Maximum SPL
LF 131dB Avg, 137dB Peak
Sensitivity
LF 100dB (2.9V @ 100Hz, 1W 1m)
Transducer Power Rating (AES)
1500W AES, 3000W Peak AES3-2012 (110 V, 8 ohm  155V Peak)
Long Term Power Rating (IEC)
1000W IEC, 2000W Peak 100Hr
Nominal Impedance:
8 ohm
Electrical Input Connectivity:
Dual NL4, transducer wire pins 1, pins 2 thru, connectors paralleled
Optional Phoenix Connector for M118i
Low Frequency Driver
1 X 18" weather resistant, long excursion, 4" coil, die cast basket, vented magnet, Aluminum heat sink and demodulating rings
Enclosure Construction
Rectangular Cabinet, 15, 16, 18mm Exterior Grade birch plywood
Suspension Attachment
Optional M118i-1 20 (4 Top, 4 Bottom, 4 Back, 4 per side) 3/8-16 threaded brackets
Hardware
Standard with Rubber Feet on bottom and Stacking Skids on TopOptional Reinforced 3/8-16 Mounting points
Optional Flown Rigging system for conventional, Cardioid, and more complex sub arrays
Finish
Urethane Blend, highly Impact and UV resistant fine grain coating
Steel Grill with Heat Cured Epoxy Powder Anti Corrosion Coating, Acoustically transparent foam(Black is standard, white is optional, custom colors optional)
IP Rating
55
Grill Details
Powder Coated 12 Gauge Cold Rolled Steel, Hexagonal Pattern
Dimensions W x H x D:
27.5 x 21.6 x 28 in, 699 x 549 x 711 mm
Net Weight
105 lbs, 47.7 Kg
Ordering Options
M118, M118i, M118F, M118Fi
ACCESSORIES
| | |
| --- | --- |
| M118CART1 | Welded Aluminum Cart, Holds up to 3 M118 |
| M118RS2 | Flown installation rigging kit, 2 Box |
| M118RS3 | Flown installation rigging kit, 3 Box |
| M118RS4 | Flown installation rigging kit, 4 Box |
| M118RS5 | Flown installation rigging kit, 5 Box |
| EYEBOLT4 | Kit of (4) 3/8-16 Eye Bolt Kit for M118i |