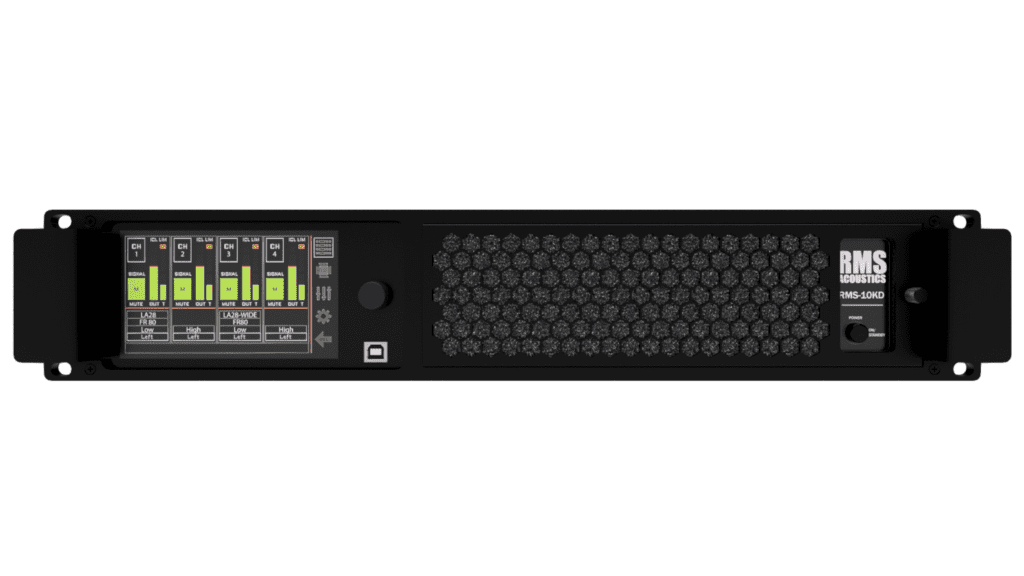 RMS-410Ki
Maximum Output Power 4 X 2500 W into 4 Ω
Maximum Output Voltage / Current  150 Vpeak / 50  Apeak
Color TFT Touchscreen Display for Monitoring and Operation
Incredibly powerful FIR and IIR DSP Capability
Optional DANTE, AES, and GPIO
All Current RMS-ACOUSTICS Loudspeaker Presets
The RMS-410Ki has been designed to supply the voltage required by the highest performance loudspeakers in the Pro audio industry. The amp is capable of driving high and low impedance loads, and features a variety of input signal connectivity, making the platform suitable for both live applications and fixed installations.
The platform features a 96kHz sample rate, end to end 64 bit double precision signal processing, low latency DSP with fixed through time (non FIR), advanced FIR capability ( up to 1000 tap per channel), extensive multi Layer IIR filtering, multi stage limiting, robust grouping and management for large system implementations.
The RMS-ACOUSTICS amplifiers contain an extensive library of RMS loudspeaker Presets and System Snapshot configuration, as well as the ability for third party designers or engineers to create their own presets, snapshots, and libraries of both.
A large, capacitive IPS touch display enables level monitoring, quick recall, and configuration in the field via the front panel without the need for computer software.
The RMS-410Ki features a mixed signal 4 channel input routing matrix, able to individually configure any input as analog, AES, or DANTE. Any of the the four inputs can be individually routed to any of the four output channels.
The RMS-410Ki can be controlled and managed remotely via ethernet through the RMS-CONTROL software platform. An onboard Ethernet switch inside each amp enables daisy chain connections between multiple RMS amplifiers for small networks. Standby, gain, and mute controls are also available over a network API for custom software integrations, including QSYS.
Onboard enhanced energy saving features, power efficiency and remote Wake up enable you to save energy toward meeting environmental responsibility requirements. The wide range switching power supply allows operation on mains voltages from 90 to 265 volts. With active power factor correction (PFC), mains power efficiency is further improved.
Utilizing the latest generation of Class D topology, the RMS Amplifiers achieve very high efficiency (greater than 90%) under all loads while minimizing waste heat output. A temperature-controlled variable speed fan dissipates heat to the rear, with a washable/replaceable filter in the front. The already low idle power consumption can be reduced to below 5W by a remotely switchable standby mode.
The RMS-ACOUSTICS amplifiers can be configured to deliver their maximum power into a variety of load impedances, down to 2 ohms, as well as high-Z 100V/70V/50V/35V systems. The advanced power control management PCM™ provides the most efficient availability of the full frame power to all channels under differing and dynamic loads.
RMS-CONTROL
An intuitive software platform that facilitates efficient setup and deployment of audio systems, both tour sound systems and installations. Configure and route analog, DANTE, and AES3 sources, equalize, phase align, delay, and verfiy with Real Time SMAART integration, document all of your data with equalization files, preset files, preset and snapshot libraries, and full system configurations. Advanced grouping and zoning for both installations and live sound loudspeaker deployments.
RMS-20K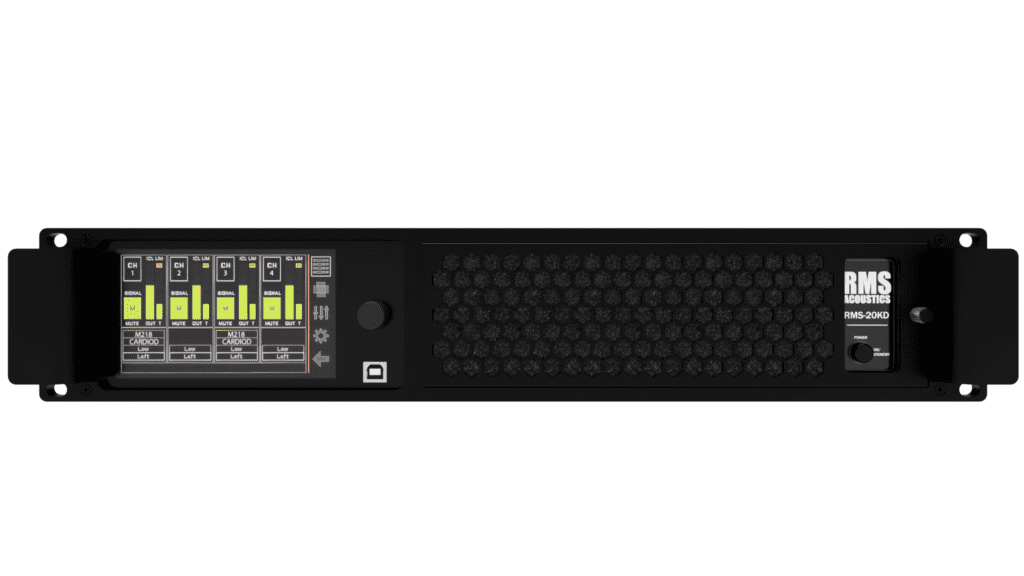 Mobile or Installation Capable Amplifer
Maximum output power 4 X 5000 W into 4 Ohm
Color TFT Touchscreen Monitoring Display
All RMS Loudspeaker Presets
Incredibly powerful FIR and IIR DSP capability
High Impedance Load Capability 100/70/50/35 V Systems
Open platform for any loudspeaker processing for any brand
RMS-14K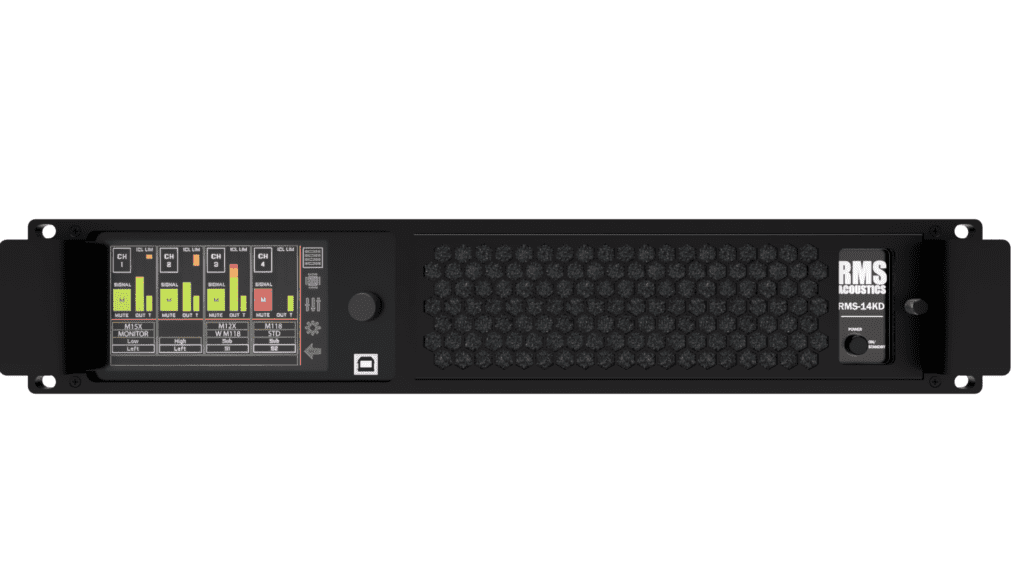 Mobile or Installation Capable Amplifier
Maximum output power 4 X 3500 W into 4 Ohm
Color TFT Touchscreen Monitoring Display
All RMS Loudspeaker Presets
Incredibly powerful FIR and IIR DSP capability
High Impedance Load Capability 100/70/50/35 V Systems
Open platform for any loudspeaker processing for any brand
RMS-10K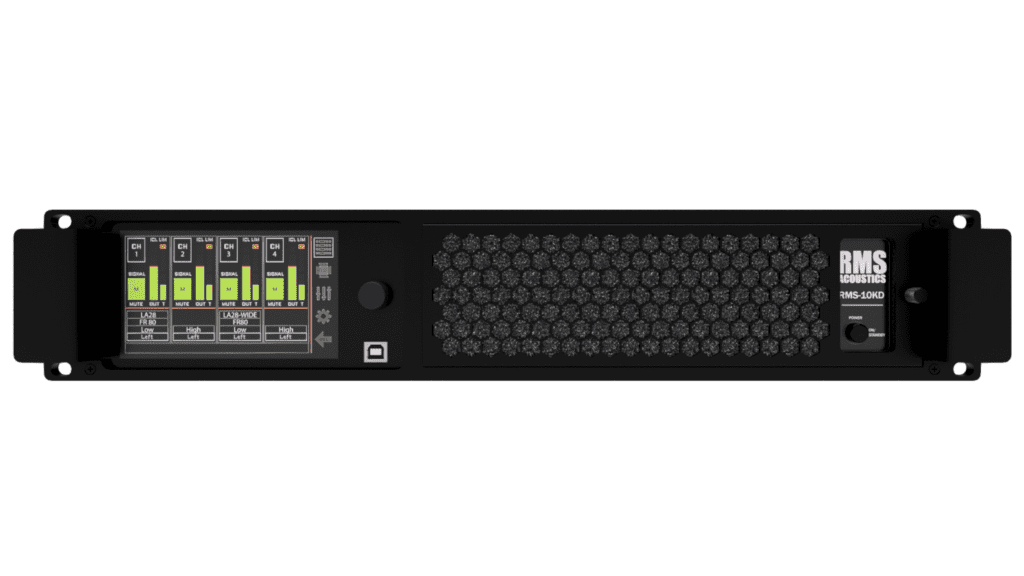 Mobile or Installation Capable Amplifier
Maximum output power 4 X 2500 W into 4 Ohm
Color TFT Touchscreen Monitoring Display
All RMS Loudspeaker Presets
Incredibly powerful FIR and IIR DSP capability
High Impedance Load Capability 100/70/50/35 V Systems
Open platform for any loudspeaker processing for any brand
RMS-45Ki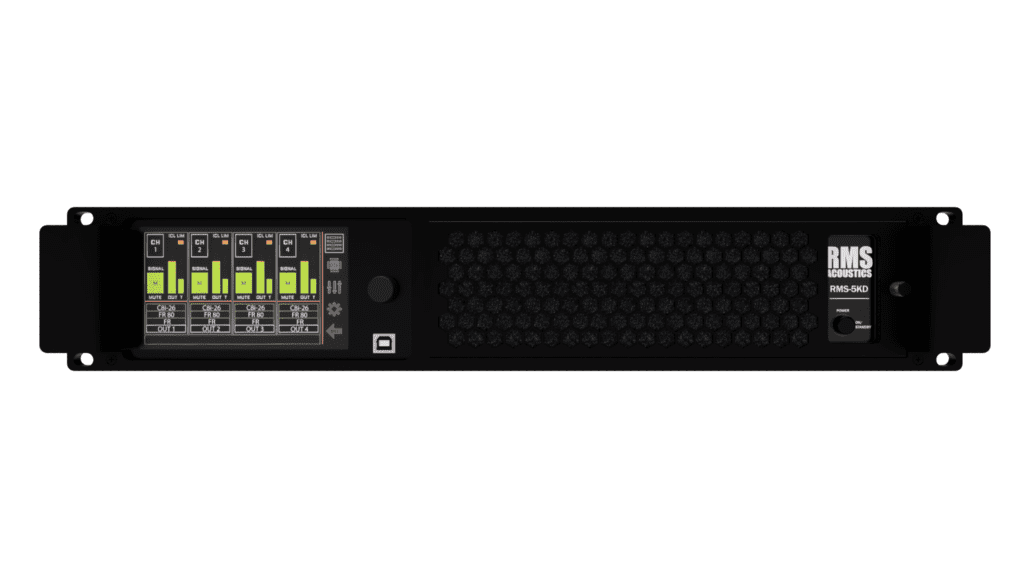 Installation Specific 4 Channel Amplifier
Maximum output power 4 X 1250 W into 4/8 Ohms
Color TFT Touchscreen Monitoring Display
Most RMS Factory Loudspeaker Presets
Incredibly powerful FIR and IIR DSP capability
Optional GPIO for Power and Mute control, Fault Monitoring
Signal, Loudspeaker, GPIO connections on Euroblocks
High Impedance Load Capability 100/70/50/35 V Systems
Open platform for any loudspeaker processing for any brand
RMS-425Ki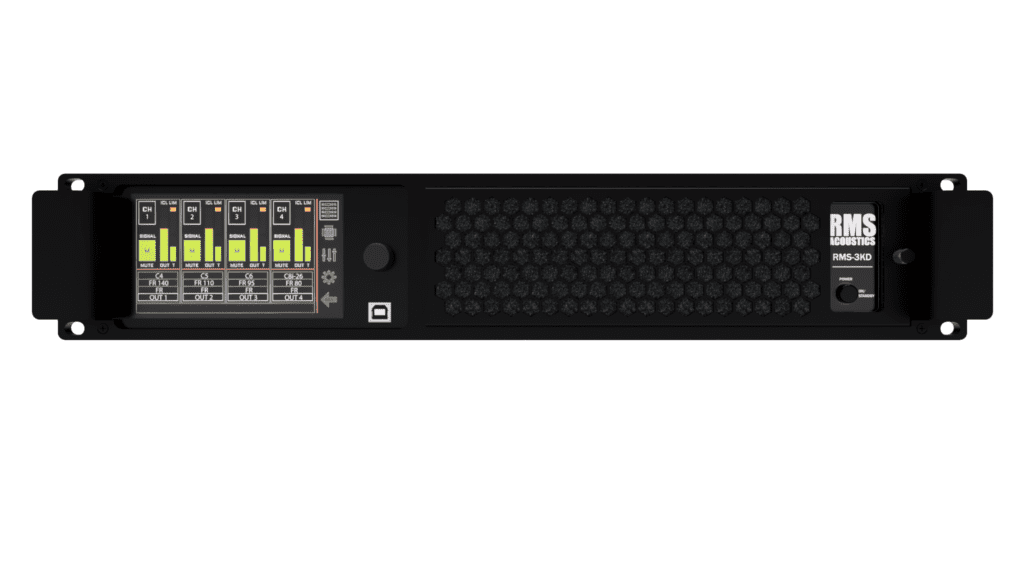 Installation Specific 4 Channel Amplifier
Maximum output power 4 X 625 W into 4/8 Ohms
Most RMS Factory Loudspeaker Presets
Color TFT Touchscreen Monitoring Display
Incredibly powerful FIR and IIR DSP capability
Optional GPIO for Power and Mute control, Fault Monitoring
Signal, Loudspeaker, GPIO connections on Euroblocks
High Impedance Load Capability 100/70/50/35 V Systems
Open platform for any loudspeaker processing for any brand