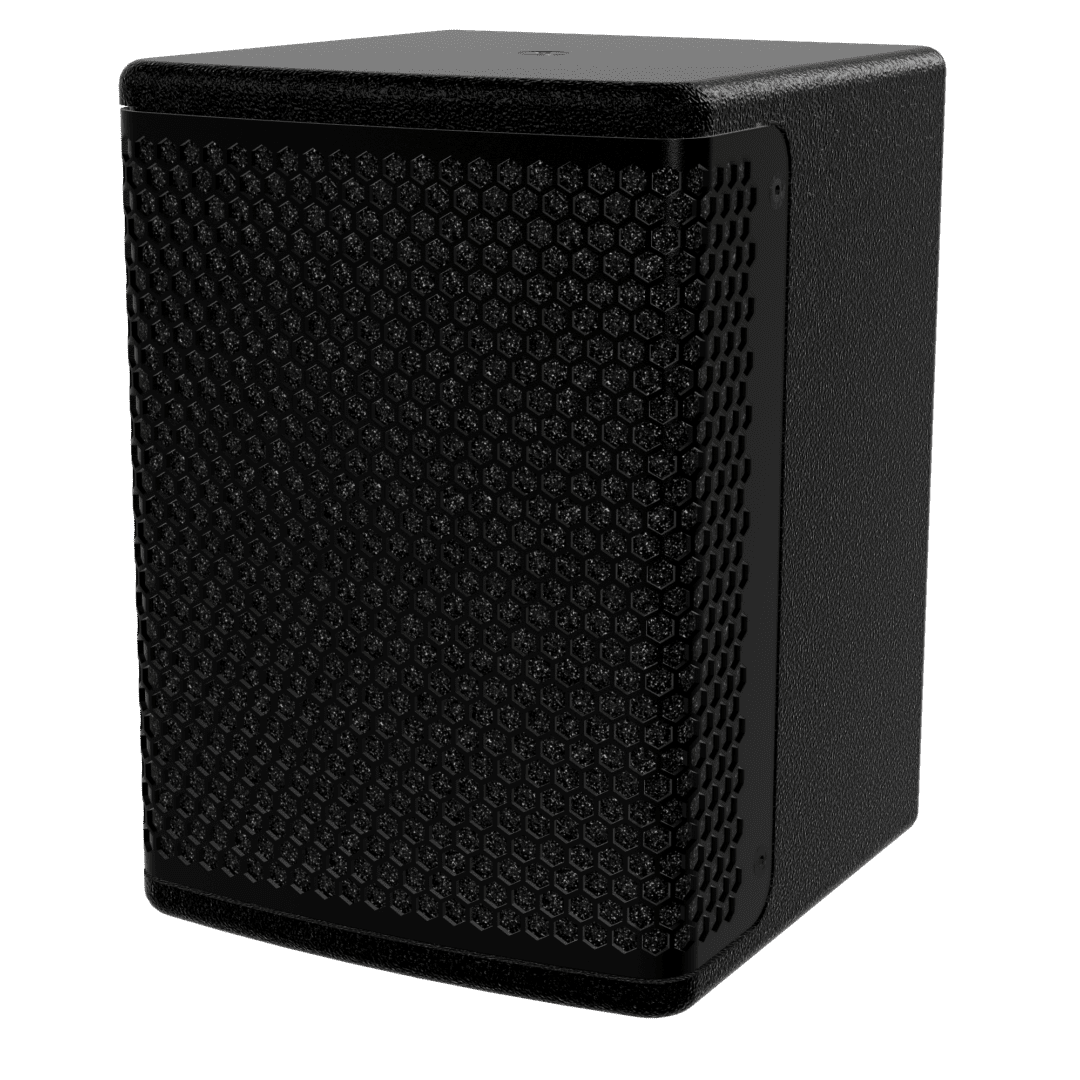 C4PoE
Features
   POE++ Powered
   DANTE™ 2 Channel Input
   2-way compact coaxial point source loudspeaker
   80 degree conical directivity
   107dB Maximum SPL
Applications
   Light foreground sound reinforcement
   Restaurant sound systems
   Arrayed installations
   Conference rooms
   Installed front fills
OVERVIEW
The C4POE++ is a compact, high performance, multipurpose loudspeaker employing a premium 4.5" coaxial device with an integrated 1" compression driver, powered by an advanced POE++ amplifier, with robust digital signal processing, and 2 channel DANTE digital audio input.
Its compact enclosure design and comprehensive range of mounting and deployment accessories make it an excellent choice for rapid deployment to almost any application, from conference rooms, to front fills, to restaurant installations.
The C4POE++ delivers impressive SPL output, yeilding highly capable sound reinforcement from a compact and versatile package. Its impressive fidelity makes it perfectly compatible with the larger  C8, C12, C12XL, and LA28 loudspeaker systems.
The C4POE++ cabinet features an impact resistant polyurethane paint finish, and an integrated handle. The loudspeaker system is available as weatherized (-X) or in white (-W) or custom colors (-C). The weatherized option provides and IP54 rating.
SPECIFICATIONS
Frequency Range (-10dB):
95Hz – 20kHz, Assumed 100Hz High pass filter 0dB point taken at 1000Hz, Processed
Frequency Response (±3dB):
110Hz – 17kHz, Assumed 115Hz High pass filter 0dB taken at 1000Hz, Processed
Electrical Input Connectivity:
RJ45
Transducer Power Rating (AES)
POE++ Type 4/ Type 3, POE+ Type 3
Long Term Power Rating (IEC)
POE++ Type 4/ Type 3, POE+ Type 3
Maximum SPL
105Hz – 18kHz: 105dB Continuous, 110dB Peak
85Hz – 20kHz:   104dB Continuous, 105dB Peak
Sensitivity (dB SPL, 1W, 1m)
86dB     Equivalent 2.83V on internal amplifier 8 ohm loudspeaker impedance (No funny business)
Nominal Impedance:
NA
Full Range Coaxial Driver
4.5in Neodymium coaxial cone loudspeaker
Enclosure Construction
Rectangular Cabinet, 12 and 15mm Birch Hardwood plywood 1.3mm layers
Suspension Attachment
C4PoE 4 (1 Top, 1 Bottom, 2 rear) 1/4-20 threaded fasteners
Finish
Black texture Poly- Urethane with UV inhibitor
Optional (Up-charge): White, RAL specified color
Grill Details
Aerospace Aluminum, Hexagonal pattern, Epoxy powder coat, Acoustically transparent black foam backing
Dimensions W X D X H:
5.5″ X 6″ X 8″, 140mm X 153mm X 203mm
Net Weight
5 lbs, 2.27kg
Ordering Options
C4PoE
Color Ordering Options
Black as standard, C5PoE-W (White), C5PoE-C (Custom Color)
ACCESSORIES
| | |
| --- | --- |
| C4B | C5 specific u bracket, for horizontal or vertical installation, black, ordered separately |
| WM-S | RMS-ACOUSTICS wall mount small, ordered separately |